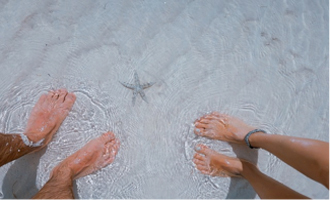 Sleep Train Now, Vacation Later (With Ease)!
My baby was 10 months old when my husband I left him at home with my parents for the very first time (overnight). Were we scared? Hell yes! We were with him every day until that point…feeding him, comforting him and caring for him in any which way we could.
Traveling is one of our favourite things to do – we love everything about it! . I recall telling a few people that we were going away on a vacation and the first question they had was, "is your baby going?" There was definitely some guilt about leaving him, but I quickly responded, "No, it's just my husband and I". Some of the people I told thought it was a great idea that we were going away on our own, while others made us feel even guiltier. "How can you leave him for that long?" I answered, "We need a vacation" like many of us do.
There was not a day that went by that we didn't think about him while on vacation…we called him everyday and made sure he was okay. My husband and I found comfort knowing he was safe with family, but we needed the daily updates. Thank goodness for Skype and Facetime!
How were we able to leave him for five days with my parents? We trusted that he would make his time with them enjoyable and stress-free. He was sleep trained and learned to fall asleep independently and sleep through the night. He had scheduled naps and bedtime, which helped plan out the week while we were away. If he wasn't sleeping on his own, I know a vacation at that point wouldn't have been considered.
Since having both my children, my husband and I have been able to enjoy dates with one another, vacations and time with our friends and family. It is easier to ask someone to watch our kids knowing they won't have to worry about them continuously waking up. We didn't sleep train our children for the soul purpose of gaining freedom, but because of all the other benefits that come with sleep training (and there are many)! Our children have become more independent, happier, attentive, focused and more adaptable to different environments/situations. We have routine and that allows us to spend more time together as a family.
Sleep training will benefit you and your family immensely. A sleep plan is created based on your child's sleeping habits and the technique you are most comfortable with whether it be gentle or intermediate sleep solutions. The best part is that the sleep plan is implemented in the comfort of your own home, either in person, over the phone or through emails. You will receive the support, guidance and solutions you require to get your child sleeping through the night.
Contact me for a free consultation and let me help find a solution for you and your family that works!
Anita Patel
Certified Pediatric Sleep Consultant
info@hushbabyhush.com
(416) 885-2235
www.hushbabyhush.com
Sept 14, 2017